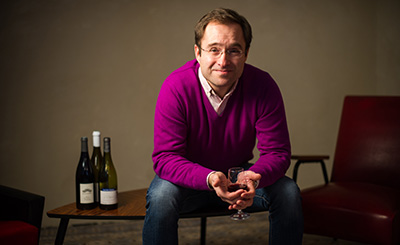 I had the good fortune to grow up in the wine making region of Pouilly-Fumé and Sancerre. My family had been in the wine business for generations. Harvest after harvest, vintage after vintage they passed on to me their passion for the wines. I was fascinated by "les vignerons", the winemakers, whose magic was to change grape juice into wine. I had the chance to spend hours in their cellars listening to them speak about their doubts while creating their incredible wines.  I had the chance to taste their grape juice during the harvests and much more, to become their friend.
In 2011, I decided to realize my dream to begin my own business based on my passion for wines. My goal was to give my guests the same opportunity I had to taste fantastic wines and meet great winemakers in their cellars. I understood that it was easy for tourists to taste any kind of wine in Paris but almost impossible to visit vineyards without taking the train and leaving Paris for a while. My idea was to give wine lovers visiting Paris, the opportunity to experience wine tastings and winery visits in the French countryside, without leaving their accommodation in the city and without taking a train or plane. The idea came to me after a trip in Australia and New-Zealand, where I did wine tours from the cities. I enjoyed them so much that I decided to create my own version from Paris.
My love for my native region, combined with my wine making knowledge, meshed with my background in Sales & Marketing. The tours we designed may be described as professional and authentic. The greatest challenge we faced was to combine personal time with local winemakers and their families, artisan cheese makers, and castle owners who would open their doors to us while doing this on a regular basis. I am proud that today we can offer this beautiful experience almost 5 days a week from March to November. I think I created "my" job in the world…
Best regards,
Jean-Bernard (JB)
Brice, joined the company in 2022 as guide and partner. After a successful career as manager in the industry his passion for the wines and the wine making process conviced him to change his life and share his passions with you.