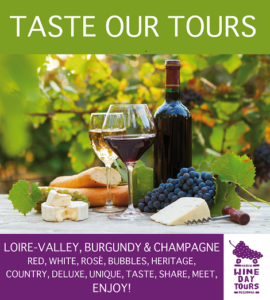 We would love sharing our passion of France and wines with you! Thank you to all our guests who trust us during the last 10 years.
Our 2020 season starts and we offer this year again 3 fabulous tours to discover French vineyards, French heritage and have a full day of discoveries and tastings.
During the Wine Enthusiast Tour & the Wine & Barrel Maker Tour, you will visit the West part of Loire-Valley and the East part of Burgundy around Sancerre, Pouilly-Fumé and Coteaux du Giennois wine regions.
Our goal is also to improve your knowledge about French wines especially on how to make them and explain the regions of production…and for sure to have fun. You will taste Red, White and Rosé wines from Pouilly-Fumé, Sancerre or/and Coteaux du Giennois.
But most important you will meet the vine-growers/winemakers and their families!
The Champagne Enthusiast Tour goes to…Champagne.
You can boook online your wine tour and if you wish a private one we can organize it for you!
Looking forward to meeting you,
JB & team